What sets us apart from other cleaning services? Scrubs provides the Anglo community in Jerusalem with a friendly, professional, and reliable service unparalleled to other cleaning agencies. We're 100% legal and we don't cut corners.
We pride ourselves on our honesty and dependability. We know that every client has different needs which we try to fulfil in the best way possible. We don't just clean; we care. That's why we'll go above and beyond what you ask of us by making sure that your home is not only clean but organized too.
No, there are no contracts to sign. We are happy to provide you with our services on a need basis. You will be required to sign a disclaimer for legal purposes.
Do I have to sign a contract?
We accept checks and cash. It is important to note that all fees should be paid directly to the management and not to the employees. All customers are provided with invoices and receipts through e-mail.
We value your appreciation for consistency in having the same cleaner each time and we try our hardest to satisfy that need. It is important to note that we can't always guarantee this request.
Will I always have the same house cleaner?
We realize that all of our customers have unique schedules and preferences, and therefore we try to accommodate your needs as best as we can. We can not a guarantee that you will be able to keep the same time slot or the same employee if you have rescheduled your appointment.
Can I have a guaranteed time slot if I rescheduled an appointment?
Whether or not you decide to leave a tip is entirely up to you. If you do wish to leave a tip, please hand it straight to the cleaner or leave it in a designated place where it can be seen clearly.
Our offices generally observe the following holidays: Rosh Hashana, Yom Kippur, Tisha B'Av, Yom Haatzmaut, and Shavuot. Chol Hamoed on Sukkot and Pesach is subject to availability. If your recurring appointment falls on a day when we are closed then we'll reschedule it for a time that suits you.
What happens if my recurring appointment falls on a holiday?
Our employees are not available for direct hire. A great deal of effort and resources are put into hiring our staff. Each employee signs a contract agreeing not to solicit or accept direct employment from our customers.
Can I hire one of your cleaning professionals directly?
No, all of our employees are self-employed contractors.
Do I have to pay Bituach Leumi, holiday pay, or pension to the cleaners?
Scrubs employees are able to bring cleaning supplies for an extra charge of 25 NIS. Brooms, buckets, and mops are to be provided by the customer.
Does Scrubs supply cleaning materials?
It's entirely up to you. Our employees are professional, honest and trustworthy, so you can feel comfortable being away while they're cleaning. If you're home, that works too.
Do I have to be home during the house cleaning?
All appointments must be cancelled at least 24 hours before your scheduled time. If not, there is a last minute cancellation fee of 95 NIS.
How far in advance can I cancel my appointment?
If your question hasn't been covered here, please feel free to contact us directly.
Which cleaning products are recommended?
For cleaning windows/mirrors
Floors, toilet bowl, sink, bathtub
Scotch for scrubbing shower glass doors/sink taps etc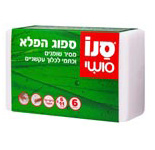 Magic sponge for cleaning stains off walls/glass
Paper towels - windows/mirrors
Big micro fiber cloth - all purpose use
Anti kalk spray - shower glass doors/sink fosets
Clorox and Javel (Economica) - can be used for kitchens and bathrooms
Steel wool - used to clean ovens and gas tops
Mellerud - Anti mold spray